Yoga Instructor Calgary - Chelsea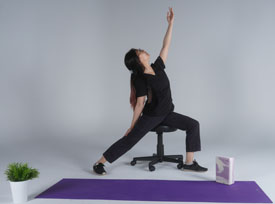 Corporate yoga Yoga for seniors and in-home yoga in Calgary
 In Calgary, our yoga instructors offer corporate yoga and in-home yoga classes through our team of yoga instructors. We would like to introduce you to Chelsea, an instructor who is part of Santé Active's team of instructors.
Chelsea is a 200RYT who loves making yoga accessible to everyone. Teaching mainly in Iyengar yoga, she focuses on utilizing props and adding gentle movement to asanas to help beginners feel the many benefits of this practice. She has been practicing yoga since she was little and has been teaching chair yoga since 2020 when she first received her yoga teacher training from the Yoga Alberta College in Calgary.
She believes that a happy mind and body are key to maintaining a happy life. And practicing yoga helps in this regard, by developing flexibility, mobility, and a sense of calmness. In addition to this, yoga also teaches us to be compassionate to ourselves and one another, fostering connections in a more meaningful way of life.  
Corporate yoga, In-home yoga and yoga for seniors Calgary

Contact Santé Active 1-888-923-2448