Zumba Instructor Toronto - Shereen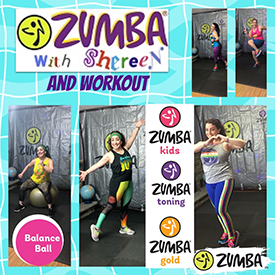 Zumba, Zumba Gold, Zumba Kids, Zumba Toning in Toronto
In Greater Toronto, we have a team of Zumba instructors. Zumba at retirement homes for seniors, Zumba for kids, and Zumba at your workplace are all available to you. Shereen is one of Santé Active's instructors near you.  
I am Shereen, I am a professional Zumba, Dance and Fitness instructor, and Physical Activities teacher for Preschools and Elementary Students. 
Two years ago I pursued my passion for Zumba and became a certified Zumba instructor for adults, kids, and seniors.  Just when I started teaching Zumba in community centers the world got hit by COVID-19, so I started teaching Zumba classes online.
As a Zumba, Zumba Gold, Zumba Toning, and Zumba Kids certified instructor, I like to teach Zumba to any age group.
Zumba is a full-body workout featuring movements inspired by various styles of Latin American dance, performed to music. It has become a popular and trendy workout across the globe.
Zumba kids are not just dancing, it's a fun program including games and activities. Zumba Kids helps develop a healthy lifestyle and incorporate fitness as a natural part of children's lives by making fitness fun. 
I am a highly motivated fitness group instructor, I run successful online Zumba and work-out classes for adults,
Working as Zumba instructor at; Waterfront Neighbourhood Centre(in person), *Innergy corporate yoga (virtual classes), and teaching Zumba for kids at 2 summer camps.
We also do Zumba classes for birthdays and special events.
I hope to see you soon in my classes
Shereen
Zumba for workplaces, for seniors and kids in Toronto

Contact Santé Active 1-888-923-2448