Yoga Instructor Ottawa/Gatineau - Christine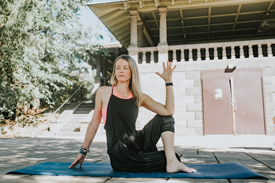 Private yoga at home and yoga for workplace Ottawa and Gatineau
In Ottawa and Gatineau, we offer private yoga sessions at home, yoga at work, and adapted and gentle yoga for seniors. If you are looking for a yoga instructor near you, we can help.  Santé Active would like to introduce you to one of our instructors in your area, Christine.
Christine's passion for teaching yoga includes the completion of her 200 Hour Yoga Training with over 1500 teaching hours. She's now on her way to earning her 500-hour intensive yoga teacher training certification. Christine has worked with a diverse client base ranging from people with chronic illness, PTSD, competitive athletes, children & adults with special needs, and the beginner yogi.
She loves to teach all levels of yoga and strongly believes everybody deserves a space in her class.
Warmly,
Find a yoga instructor near you in Ottawa and Gatineau

Contact Santé Active 1-888-923-2448