Yoga Instructor York, Etobicoke, Mississauga - Geet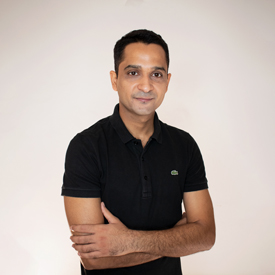 Corporate yoga and yoga for seniors in York, Etobicoke, Mississauga 
With our team of yoga instructors, we offer yoga for seniors, workplace yoga, private yoga, and yoga in schools in York, North York, Etobicoke, and Mississauga. Anytime, anywhere, and whenever is convenient for you. We can help you find a yoga instructor. Meet Geet, a member near you who is part of Santé Active.
Although I have been into fitness all my life I started taking it seriously around 10 years back. I picked up long-distance running combined with high-intensity interval training (HIIT). I trained for and participated in half/full marathons throughout these years. My love for the mountains went one level up and I took up high-altitude mountaineering as well and scaled India's highest non-technical peak Stok Kangri (6,153 meters) in Ladakh among many other treks. All this while I practiced Yoga asanas to help me with endurance, strength and flexibility, along with mental focus.
I worked as a software engineer for 13 years to sustain and found my passions, till in Feb 2020 I realized my true calling. I quit my decently paying job and went to Rishikesh to become a full-time Yoga teacher. By the time I came back, the world was locked down due to the global pandemic. This gave me an opportunity to self-practice Yoga at home, enhance my abilities as a practitioner and teach people. After gaining experience as a Yoga teacher, I went to Mysore, the birthplace of Ashtanga, for advanced Yoga teacher training. I practiced in Hatha, Ashtanga Vinyasa, and Iyengar styles and did global certifications in Prenatal & Postnatal Yoga, Yoga Therapy, Kids Yoga and Mudra Yoga. I am a believer in Ashtanga Yoga philosophy and practice the Ashtanga Vinyasa series on a daily basis. There could not be a better day to share this beautiful practice that changed my life and tell people that it can be practiced any time of the day.
RYT 500 Yoga Practitioner and Teacher,
RYT 200 Adi Yogpeeth,
Rishikesh RYT 300 Yogadarshanam,
Mysore Yoga Styles- Ashtanga Vinyasa,
Iyengar,
Hatha,
Restorative,
Pranayama,
Yoga Therapy,
Prenatal and Postnatal,
Kids.
For workplace yoga or In-home yoga in Toronto

Contact Santé Active 1-888-923-2448