yoga Instructor Brampton and Scarborough - Sweta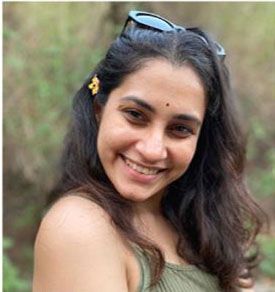 Yoga in the workplace and for Seniors in Scarborough and Brampton
In Brampton and Scarborough, we have a team of yoga instructors who can provide you with private yoga classes and corporate yoga classes at a time and location that is convenient for you. For yoga instructors, please do not hesitate to contact us.  Located in Toronto, Santé Active would like to introduce you to Sweta, a yoga specialist who can teach yoga at your home or at your workplace.    
Believing to be a giver, without neglecting self-care and focusing on self. I am an Antagonist of a sedentary lifestyle and strongly believe in making every day productive. A firm believer of thought that every progress even if minor, will take you closer to your goal.
I have been working in the field of Dance and Choreography for 8 years, right after I graduated from high school. As I progressed in my life and career, I found my interest in the field of yoga and fitness movement as well. And so, I developed the knowledge for the same and made it a part of my profession. I have worked for renowned institutions like John Britto Dance Company (Chennai), Dhirubhai Ambani International School (Mumbai) and others. Performed for shows both national and international Undertaken Wedding choreography events Corporate events Schools and colleges Organized workshops Intensive dance training and showcase Yoga instructor (aspects - fitness, for children, as a cure for health issues and to overcome depression and anxiety) Fitness instructor Achievements From middle school to high school, despite changing institutions, got identified as an extraordinary student and topped in my area of expertise.
At the young age of 17, identified my creative side and became self-reliant on aspects of career and finance. Became the youngest earning member of my generation in the family. Travelled across the country and abroad on basis of my talent and skills. My ability to network helped me to win word-of-mouth right from the beginning of my career. Able to impart Fitness motivation to the known and unknown, with my knowledge of health, well-being, and Yoga. This motivated me to revive my educational excellence post a different career category. Principles I follow 'Realizing the importance of things that really matter'
The 5 C's make sure I do not fail to prioritize myself in the process of living. Choices, Consistency, Commitment, Connection, Confidence Why I want to reach out to people Balance & Rise How balance and consistency can make the life process smooth and the process of goal achievement smooth and stress-free The power of not giving up. Being happy within and with self is requisite to make people around you happy, and that's why self-care and self-love should be a priority too To let people, know the need for and importance of giving at least an hour to their body as well as mind each day.
Workplace yoga and yoga for seniors in Brampton or Scarborough

Contact Santé Active 1-888-923-2448