Yoga teacher Calgary - Christine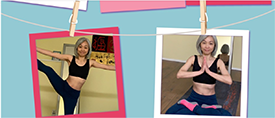 Corporate yoga, private yoga, and Yoga for seniors in Calgary
Our yoga instructors in Calgary are highly skilled and experienced. Santé Active offers corporate yoga, yoga for seniors, and private yoga sessions in Calgary. Let Santé Active introduce you to Christine, one of our yoga instructors in your area.
The body can only express the truth that we carry inside!
My Yoga journey
I first encountered yoga almost 10 years ago while I was in Taiwan. As membership at studios being so cheap, I was doing Yoga, aerobics and even hip hop almost every day for 3 years. Gradually, I ditched yoga and only kept hip hop classes because I found it so frustrating to keep up with the rest of the students at those over-sized yoga classes ( normally 20+ students, the instructor only focused on those students with more than 5 years of yoga practice and I felt that newbies could only try to imitate whatever others were doing without knowing whether or not I was even doing it correctly.
I moved back to Canada in 2017, never thought about taking Yoga again at all because I was focused on pursuing my Nutrition diploma and prior to the Covid pandemic, I was also working as a property manager managing 8 very popular air B&Bs in Canmore as well. Then, 2020 March, Covid hit big, and I lost that job. Like a lot of people, thanks to Covid, for the first time in life, I felt defeated, hopeless, and scared. However, I managed to see the positive side of not being able to work and God blessed as always for me to encounter this fabulous Yoga doctor, Alanna, and without hesitation, I started the course realizing that how a true yogi not only inspires you but gives you this transforming experience with yoga practice whereas an ordinary yoga teacher who only does his or her job might ruin your first impression with Yoga and make it intimating instead of inviting. Therefore, as a brand new yogi, I thrive to enrich my students with the wonderful experience yoga practice offers by listening and understanding their history with yoga and their needs and expectations in order to assist them in every aspect of yoga practice, especially those with low confidence and were once so intimidated by yoga practice like I used to be.
Taking the YTT course, of course, the biggest challenge would be it is instructed in English, which is NOT my first language. But I managed to pass all the tests and requirements, I realized that yoga can be beyond the language barrier and it's the beautiful communication of body, mind, and soul between instructor and student. I hope our destiny lets us meet in this fabulous yoga paradise and we achieve the harmony of our body and mind on our yoga mat, at the same time the harmony of the world outside the mat. Namaste ?‍♀️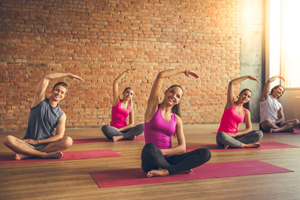 Corporate and private yoga and yoga classes for seniors in Calgary

Contact Santé Active 1-888-923-2448