Tai Chi Instructor Montreal - Leon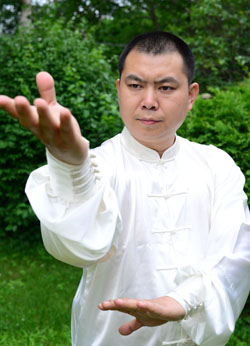 We can help with workplace stress with corporate Tai Chi in Montreal
Leon can help your organization to reduce workplace stress with corporate Tai Chi classes in Montreal. He is a professional Tai Chi instructor who can teach the core skills of Tai Chi through specific teaching methods.  I will show my students how Qigong works as a breathing technique in Tai Chi.  I will explain how Strength Skill works in terms of biomechanics, and how one can apply this trick in reality.  I will unveil the mystery of pushing the human body to its fullest, as well as adding to one's willpower.  Tai Chi Push Hands can help improve body balance, body control, and body awareness.
I dipped my toes in martial arts as young as the age of 12.  From the age of 18 to 22, I practiced Tai Chi under the systematic guidance of prestigious masters.  Ever since, I have gained full mastery of Tai Chi theories, fighting skills and exercising methods, and became a qualified athlete who won national awards.
The basic class involves the 24 Form Tai Chi combined with basic Push Hands techniques.  The intermediate class involves Chen 56 Form Tai Chi or Yang 40 Form Tai Chi, and Tai Chi fighting skills.  The advanced class involves traditional Tai Chi routines and advanced Push Hands techniques.
We can help reduce employee stress with corporate Tai Chi in Montreal
Contact Santé Active 1-888-923-2448