Osteopath in Montreal - Maureen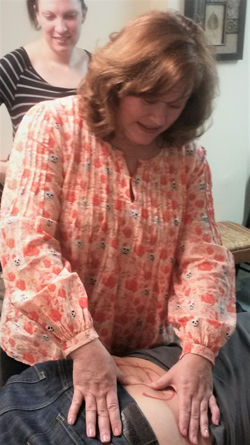 For in-home osthepath services in Montreal 
Internationally Accredited Osteopath
Bachelor of Arts, Clinical Psychology 
Registered Member of the Society of Osteopaths of Canada (SOC)
Reiki Master
Maureen combines her fifteen years of clinical experience in Osteopathy, knowledge of Psychology, to take a genuinely holistic approach to complete mind, body, and soul healing.
Maureen uses Osteopathy to help you heal from past Trauma, including:
Physical trauma including Sports injuries, Motor Vehicle Accidents, Concussions.
Emotional Traumas including Abuse, Anxiety, Unresolved Grief.
Debilitating Illnesses including Multiple Sclerosis, Systemic Infections.
Recurring Pain conditions such as neck pain, low back pain, shoulder injuries, ankle injuries, joint range of motion (ROM) pain due to arthritis or inflammation.
 Women's Health Issues, Obstetrics Pediatrics, & Cranial Dysfunctions.
Maureen is a Quebec trained Osteopath who has been practicing for fifteen years.  She has been accredited internationally in Australia and the UK, where Osteopaths are Primary Care Practitioner, . This includes a university degree in the health sciences, 3-6 years of intensive study within the field of Osteopathy, the completion of a thesis, writing and publication of dozens of case studies.   Maureen also holds a Bachelor of Arts degree from McGill University with a major in Clinical Psychology since 1989.  She completed her Osteopathic training in 2003 with the College d'osteopathie du Quebec a Montreal.
Maureen is a member in good standing with the Society of Osteopaths of Canada, is a fomer member of the Ontario Federation of Osteopathic Professionals, the Corporation des Praticiens en Medecine Douces du Quebec in Quebec, the Society for the Promotion of Manual Practice Osteopathy in British Columbia,  as well as an Associate Overseas member of the Australian Osteopathic Association (AOA).  Maureen has the distinction of having been the first Canadian trained Osteopath to be approved to work in Singapore in South East Asia.
For eight years Maureen was the owner and director of Centre Osteopathie Plus, a multi-disciplinary clinic  on the north shore of Montreal,  where she successfully treated hundreds of patients each  year.  Many of her patients came to her via word-of-mouth, but increasingly patients were also referred by familyphysicians, specialists, and other health care practitioners. Maureen's  interest in healthcare has taken her from the east coast to the west coast of  Canada to Europe, Australia, as well as Southeast Asia where she worked in Singapore alongside a fully international team of health care practitioners.   
 She has a focus on women's health dysfunctions including infertility, pregnancy and obstetrics, uro-geninal bladder and kidney disorders, as well as cranial pathologies, including migraines, chronic sinusitis, chronic pain due to cervical  whiplash, recurring ear infections in children.  She also has advanced knowledge of orthopaedic and neurological degenerative diseases and injuries and how Osteopathy can help minimize related pain, lack of mobility, and negative effects on a person's lifestyle.  This includes conditions such as multiple sclerosis, scoliosis, osteoarthritis, rheumatoid arthritis, autism, ect...
Contact Santé Active for mobile ostheopatic services 
1-888-923-2448