Nutritionist / Dietitian Montreal Laval Longueuil - Amel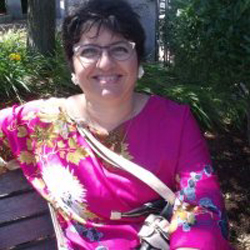 For a nutritionist/dietician to your workplace or at your home in Montreal, Laval or South Shore
"Graduated from the University of Montreal, specialized program in human nutrition and member of the College of Dieticians of Quebec (OPDQ), Amel is dedicated to its customers by providing nutritional advice that greatly contributes to improving health, quality of life and performance. 
Through the adoption of healthy eating habits, Amel has helped children, adults and older people involved in weight management, with health problem (s) in relation to food (diabetes, cardiovascular diseases, digestive system diseases, etc.). Now she takes action, through conference presentations, to transmit the message on many topics of nutrition. It was always a pleasure for her to respond to public concerns about health and diet.
One more challenge that awaits her as a communicator and professional healthcare".
Contact Santé Active
1-888-923-2448