Massage Therapist in Calgary - James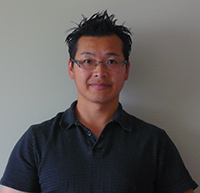 For corporate chair massages or therapeutic massages at your home in Calgary
I am a registered massage therapist through the Natural Health Practitioners of Canada. I received my Sports Administration Diploma and Massage Therapy certification at Mount Royal College.
I provide Swedish, deep tissue, and chair massage. During my 2 year study at MRC, I also had the privilege to play for the Cougars badminton team. On my spare time, I like to get out of the city and explore the great outdoors.
Clients range from law firms, dental clinics, oil companies, financial firms and healthcare providers.You may also catch Kata Chair Massage at events for companies as an appreciation for their clients, to help attract customers during promotions, or as a special treat for their retreats.
If you are looking for a massage therapist in Calgary
Contact Santé Active 1-888-923-2448