Yoga Teacher Calgary - Paige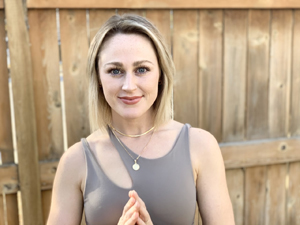 Corporate yoga and private in-home yoga in Calgary
Save time finding a yoga instructor in Calgary.  We have a team of instructors who can bring their yoga classes to your business, your home and your retirement home.  Let Santé Active introduce you to Paige one of our instructors in Calgary.
My name is Paige and I have been practicing yoga for 11 years. I knew the moment I stepped on my mat that I wanted to teach, and have been fully dedicated ever since. I specialize in power flow sequencing, and I love everything about anatomy. I am certified in Vinyasa Flow and Yin Yoga, and love to create unique and creative transitions that keep my students engaged and challenged. I get up every morning and read something new, and try to incorporate it into my classes so that people want to come back. I am ready to lead anyone through an amazing yoga experience.
After I started practicing yoga in 2010, I knew I wanted to become a teacher. I have a piece of true knowledge and understanding, and I want to share my passion with others. I hope to inspire students in my classes to feel good about them and create a space for them to feel safe and accepted. I want to incorporate my love for singing and music. I would love to help transform someone's life, as many teachers have transformed mine. I have an outgoing personality and make classes fun and easy to follow, with the ability to easily come up with well-rounded sequences for all levels. As a new yoga teacher in Calgary, I intend to continue learning and gain as much experience teaching as I can.
Corporate yoga and private in-home yoga in Calgary

 

Santé Active 1-888-923-2448