Zumba Instructor Toronto - Rini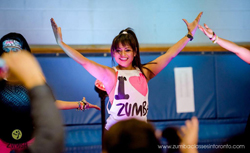 Are you looking for a Zumba instructor in Toronto?
We offer corporate Zumba, Zumba for seniors and Zumba for kids in Toronto.  Save time we have a team of Zumba instructors who can travel to the site you would like your classes.  Let Santé Active prsents you one of our member Rini.
Rini, originally from India now living in Toronto , started dancing at age of 6. She has dance background in Indian Dance : Bollywood, Garba & Bhangra, International dance forms : salsa , bachata, cumbia, Reggeton, dancehall ,kizomba, hip-hop , merengue etc.
She loves dancing and thats her passion.She got training for zumba fitness instructor back in january 2015 with the Ricardo marmitte and since then she never looked back. 
She enjoys teaching various classes like of Zumba , Strong  and BollyX fitness formats . She mainly teaches in GTA area and in various charity events around the world. 
From year 2015-2020 she has continued learning different formats of zumba and she obtained few more licences like Zumba Sentao, zumba kids & junior , Aqua Zumba , Zumba Toning , Zumba step , Pro skills , Cue like pro.Now she teaches these formats at different studios like LA Fitness ,womens fitness club , Dance Passion Studio & private zumba classes at home and condos in GTA area.
If you are looking for a Zumba Instructor in Toronto

Contact Santé Active 1- 888-923-2448