Zumba Instructor in Ottawa - Rhea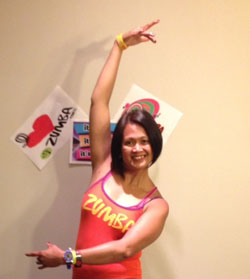 For a Zumba Instructor at your workplace or for a private class in Ottawa
Save time searching for a Zumba instructor in Ottawa or Gatineau for corporate Zumba classes, Zumba for seniors or any other special events you may have.  We have a team of Zumba instructors in Gatineau and Ottawa.  Let us introduce you, Rhea a member of our team of teachers.
RHEA has a Bachelor of Science in Psychology and Guidance and Counseling. It says it all… she loves being with people, and so passionate about health and fitness while helping others reach their goals! She was a dance and Aerobics Instructor in the '80s, and got certified as a Zumba Instructor in April 2014, and started teaching then. She is pursuing another fitness venture of becoming a Personal Trainor in the Fall. Her Zumba fun-filled class is a total body celebration that helps participants melt away calories while trimming and toning to upbeat rhythms. You will definitely get ahead to toe cardio and strength dance work-out!
WHAT YOU MAY NOT KNOW ABOUT RHEA 
Rhea is a very busy mom of 4 beautiful children, ages 22, 16, 11 and 3! Yes… you read it right! Aside from a full-time job, her children keep her on the 'go', as they're very active in school, in the community and into competitive sports. She may be tough, but loves to teach Zumba and strength training classes with lots of giggles on the side! 
For corporate Zumba or Zumba for a special event in Ottawa and Gatineau Contact Santé Active 1-888-923-2448