Yoga Instructor in Toronto - Jigar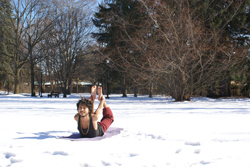 Are you looking for yoga classes at your home or your office in Toronto?
If you are looking for a yoga instructor in Toronto for yoga classes at your home or at your office? Contact us! We have a team of yoga instructors in the Toronto area.  Let Santé Active introduces you Jigar one of our teachers in your area.
Jigar is a yogi from Tanzania who spent 6 months in India to deepen his ashtanga practice through teachings from authentic gurus in the foothills of the Himalayas. He is well versed in yoga philosophy and principles that he brings to the West.
He has taught hatha yoga internationally to people from all backgrounds and hosts regular workshops on meditation and pranayama. His students describe him as an orb of positive energy that is able to bring light to anyone's day.
We can teach yoga classes at your home or at your office in Toronto
Contact Santé Active 1-888-923-2448