Yoga Instructor Toronto - Victoria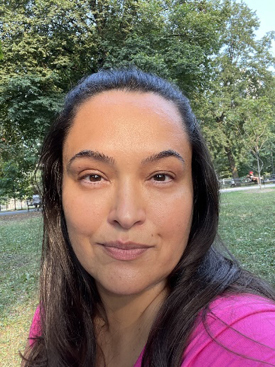 Corporate yoga, private yoga, and Yoga for Seniors in Toronto
If you are looking for yoga instructors in Toronto for corporate classes, yoga for seniors, or private yoga in Toronto, then Santé Active can help.  We have a team of instructors available near you.  You can save time! Meet Victoria one of our instructors in Toronto.
Victoria is currently an RYT®500 yoga teacher, as well as a dance fitness and therapeutic movement instructor.
Victoria's yoga journey started 18 years ago when she arrived in Canada. Since 2013 she practiced yogic meditation and emotion-focused mindfulness meditation in order to deal with the stress of handling a career in healthcare, working on her Master's degree, and parenting her two sons.
In 2020, during the pandemic, she took her online yoga teacher training from Himalayan Tradition yoga schools from Rishikesh, India, and started teaching online yin, Hatha, and kundalini yoga, classes. Victoria keeps in touch with the Rishikesh yoga schools and teaches yin yoga and meditation classes for their online RYT200 courses.
Victoria's passion for Brazilian samba started in 2000 when she first visited Brazil. Since then, she continued learning authentic samba from lead choreographers of champion samba schools in Rio de Janeiro and São Paulo. Her love for dance fitness and wellness led her to instruct samba fitness and stretching sessions during 2019-2021 for employees at the Toronto hospital, where she works full time. 
In 2021, Victoria became a Dance Your Ability facilitator, offering dance therapy movement sessions for those who are either overwhelmed by regular dance classes or like to try something new.
Currently, Victoria teaches in-person and online classes through her online Victoria Dance and Yoga Studio
Yoga at work, private yoga , and yoga for seniors in Toronto

Contact Santé Active 1-888-923-2448