Yoga Instructor Toronto - Andrea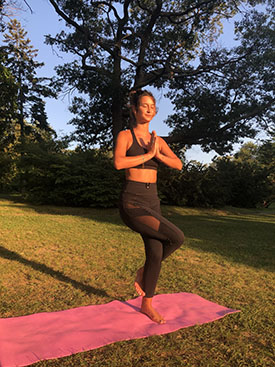 Corporate yoga, private yoga, and Yoga for Seniors in Toronto
In the Toronto area, we have a team of yoga instructors. You can find an instructor as soon as you need one if you wish to host yoga classes at the workplace, at home, or at a retirement residence. Please contact us! Santé Active would like to introduce you to Andrea, a member of our team.
 
I became a lover of yoga about 10 years ago and have never looked back. To me, yoga is the relationship that is built between Mind, Body, and Breath. The feeling I get when I'm connecting to all three of those elements never fails to put me in a harmonious state. The ability to be able to create a space that's free from current life obstacles and focus on how your body is feeling is really a gift that we should take advantage of. I want to be here to share that gift of freedom and release so everyone can comfortably and competently move their bodies through life.
I completed my YTT in Toronto and intend to always keep growing my practice. I was born in Serbia and came to Canada at a very young age. In some way, I was always searching for peace within the Mind and Body and this is something I value very highly. The moment I was introduced to meditation and yoga, I completely immersed myself in it and discovered great benefits from building my own practice. When I'm not practicing yoga, I can be found hanging out with family and friends, biking, or walking near the water. Anything active is up to my alley!
Yoga at work, private yoga , and yoga classes for seniors in Toronto

Contact Santé Active 1-888-923-2448