Yoga Instructor Ottawa - Jennifer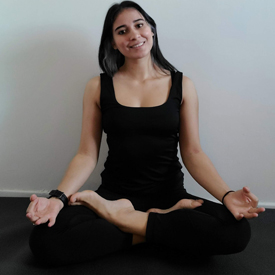 Corporate yoga, private yoga, and Yoga for Seniors in Toronto
We have a team of Yoga instructors in Ottawa and Gatineau.  We offer workplace yoga, yoga for seniors, and private yoga sessions at your home.  Don't waste time looking for your yoga instructor.  Take a moment to meet Jennifer.
I have had a pretty active lifestyle my whole life, always being involved in a sport or the gym, but as I got older I wanted to find something new to become passionate about. The first time I took a yoga class was probably around 5 years ago but at the moment I did not see it as something interesting to me but that all changed about a year and a half ago.
I was a person who would have to be in the gym at least 4 times a week and when quarantine started this was no longer an option as gyms were closing down and I had zero equipment at home. During this time I was also struggling with my weight and a minor injury from whiplash and was at a stage where I felt powerless because the only thing that was making me feel better was to be able to go to the gym and workout. Even though the progress at the time was slow it was motivating me to see small changes. So one day I just saw an old mat laying in the house and thought why not give yoga a try again and that is how my journey began. I started only practicing one to two days a week but before I knew it I was falling in love with it and it became constant practice. I began seeing so many changes in me not only physically but mentally and so did other people. Many friends suggested I try teaching, and at first, I was doubtful as I am usually a very shy person, but then I decided I did want to do this so I took a 200 Hour Teacher Training to get officially certified. I kept my at-home practice going but now I learned so much more and want to take my newfound teaching techniques to people everywhere. I am based in Canada but I want to teach online as well and help people grow the way I have and even more.
I once heard a motto, Inhale the future and exhale the past. The longest journey of any person is the journey inward let me take you there. I am extremely passionate about the Mind-Body Connection and the way yoga can heal us. My teaching style is for everyone and everybody, I just want to help you grow at your own pace.
Yoga at work, private yoga , and yoga for seniors in Toronto

Contact Santé Active 1-888-923-2448