Yoga Instructor Etobicoke, Mississauga, North York - Elena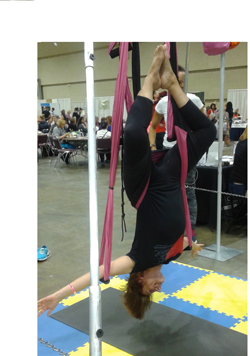 In-home yoga and corporate yoga in Etobicoke, Mississauga, and North York
We offer corporate yoga and in-home yoga in Etobicoke, Mississauga and North York. If you are looking for a yoga instructor save time and contact us as we have a team of instructors near you. Let Santé Active introduce you to Elena one of our yoga instructors in the Toronto area.
Elena has been practicing yoga for over 15 years. When she started practicing yoga she immediately felt that it was not just a physical practice but an inward journey that allowed her to become aware of the intricate connection between body and mind. The yoga practice opened to her the gates to meditation and self-awareness.
With her great passion, Elena explores the therapeutic aspects of yoga in her classes to help her students to develop an acute awareness of their physical and mental state. Elena also teaches Yoga & Pilates fusion classes, as well as Yoga for Seniors. Elena is passionate about helping clients to heal the Body, Mind, and Spirit and also working with people who are struggling with anxiety or depression.
2015 – 200-hour YIN & YANG Yoga of Balance Certification.
2016 – Biomagnetic Energy Healing Program.
If you are looking for corporate yoga or in-home yoga in Toronto
Contact Santé Active 1-888-923-2448