Yoga Instructor in Toronto - Michaela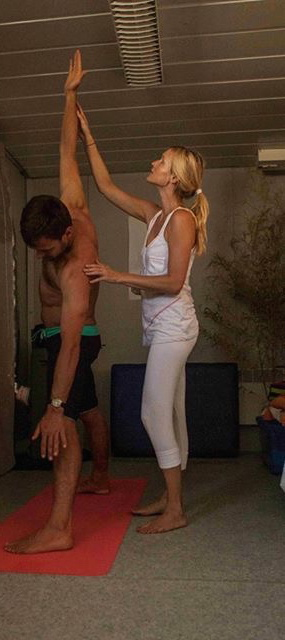 Yoga in the workplace and yoga at home Toronto and North York
If you are looking for yoga in the workplace or yoga at your home in Toronto or North York contact us!  We have a team of yoga instructors in GTA.  Let us introduce you to Michaela, one of our yoga instructors in the Toronto area.
I began working in a competitive business world. During the many years that I worked as a sales manager, I realized how important and difficult it is to manage job stress and self-care. I kept a good balance in this competitive environment thanks to my regular yoga practice. The more my passion grew for my practice, the more I wanted to deepen my knowledge of well-being techniques. I did this in Asia where through my personal experiences of traditional medicine I refined my knowledge of life science, health and well-being philosophy called Ayurveda. 
I went on to successfully complete my training in theoretical and practical body treatments, relaxing techniques and shortly after this my international certification of a yoga teacher. These effective tools that I have acquired from my experience and training are the key to helping us better manage our lifestyle in Western society and maintain harmony. These techniques are available to practice at home or at work. Every aspect of my services is customized to the individual. I offer individual or small group sessions.
My new way of living: be happy and accepting myself.
My method:  help you to know yourself better, support your growth and work with you until you can thrive by yourself.
My joy and passion: to share this new perspective on life.
Yoga is an effective way to help the body to find balance. 
Style of Yoga: Yoga therapy, vinyasa, and Hatha.  According to Ayurveda, yoga is a tool to achieve a balance of energy in your body.
I will adapt the classes around you and will use tools to modify the postures to fit your ability and needs, in order to prevent injuries. In doing so we will respect the limits of your body.
The goal is to have fun!
Coaching session:
In the consultations, we always start with an initial individual assessment to understand what your needs and requirements are. This will highlight your individual tendencies and will help determine the correct solution for you in order to reach your optimal wellbeing.
The coaching session, and its various themes (nutrition, detoxification, personal development), is the next logical step after the initial consultation and will help you start your path to optimal health. 
Ayurvedic Yoga Workshops
Learn the principles of Ayurveda, how to achieve balance and overall well-being?
Find out your profile and how to apply these principles in a practical way. 
1 hour long 
Practic:  balancing yoga.
What Style of yoga suits you the best?
How to calm your nerves and anxiety?
What Is the exercise that will stimulate you in the days of fatigue?
"The body is your temple. Keep it pure and clean for the soul to reside in."
B.K.S. Iyengar
We provide yoga in the workplace and yoga at home in the Toronto
Contact Santé Active 1-888-923-2448