Yoga Instructor in Toronto - Natalie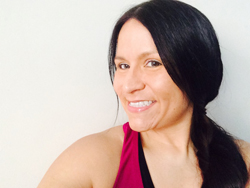 Private yoga and yoga for seniors in Toronto 
Are you looking for private yoga or yoga for seniors for a retirement home in Toronto? We have a team of yoga instructors in the Toronto area. Let us introduce you to Natalie one of our yoga instructors near you.
Hello, I am Natalie, a Certified Adult, and Kids Yoga Instructor. My passion for fitness is exhibited in my teaching, working with children, adults, students, athletes, men, and women from all walks of life. I enjoy teaching classes in a variety of different settings ranging from large to small groups, including one-to-one sessions and couples. I am here to encourage, support and make yoga a fun and enjoyable experience for those I teach in my class. I greatly enjoy working in different environments such as universities, schools, fitness centres, homes, offices, outdoors and let's not forget the beach. Yoga is very accessible, only requiring a mat.
My love for yoga comes out in my teaching. I meet my students wherever they are at. At any level of fitness, there are poses for you, so you are never left out. 



Following a severe soccer injury, I thought I may never play soccer again. After regularly practicing yoga my body started to transform, heal and become stronger. Before I knew it I was playing soccer again and better than I was before. As I continued to practice yoga, I noticed the many benefits it had on my body and mind. I look forward to sharing my experience and also helping you experience and enjoy the many things yoga has to offer. 
Yoga Therapy

Yoga for backs 

Yoga for Trauma

Yoga for Athletes 

Soccer Fitness Trainer
See you soon on your mat!
We deliver private yoga and yoga for seniors in Toronto
Contact Santé Active 1-888-923-2448