Yoga Instructor & Personal Trainer in Ottawa - Natalie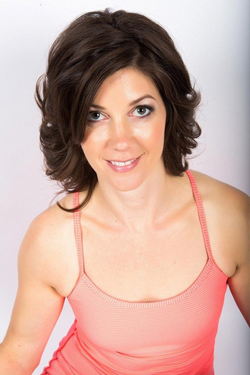 Are you looking for a yoga instructor or Personal trainer in Ottawa?
Save time finding a yoga instructor or personal trainer in the Ottawa region.  We have a team of trainers and yoga instructors, so we offer corporate yoga and in-home personal training in Ottawa.  Let Santé Active introduce you to Natalie who is a yoga instructor and personal trainer member of our team.
Natalie is a certified yoga teacher, personal trainer, group fitness instructor, and stand-up paddle board instructor.
She has a real passion for Sports Nutrition and holds a diploma in Advanced Sports Nutrition from Shaw Academy in Ireland.  She competes in Power Lifting and has traveled extensively around the world training hotel and resort staff in health, wellness and nutrition.  She inspires all of those who have the chance to listen to her speak because of her passion and enthusiasm for eating well and living well.
In 2003 she graduated from the Canadian School of Natural Nutrition where she obtained a diploma in Natural Nutrition with accompanying professional title Registered Holistic Nutritionist™. The program was so life-altering that she purchased the license to the school. She is currently the Branch Manager of the Ottawa location of the Canadian School of Natural Nutrition. are undeniably contagious.
Yoga Instructor

Hatha Yoga

Yin Yoga

Suspension/Aerial Yoga

Personal Trainer

Aqua fitness Instructor

Registered Nutritionist
Find corporate yoga & in-home personal training in Ottawa
Contact Santé Active 1-888-923-2448