Yoga Instructor in Toronto - Nancy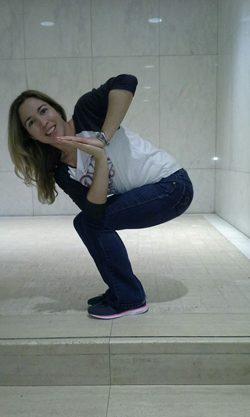 Are you looking for corporate yoga or in-home yoga in Toronto
If you are looking for corporate yoga, or in-home yoga in Toronto, East York & North York? We have a team of yoga instructors in Toronto. Let us introduce you to Nancy one of our yoga instructors.
Nancy is a Certified Classical Yoga Teacher trained by practitioners, David Gluck (The Yoga Sanctuary & Sundara Yoga) and Lindy Lewis (The Yoga Sanctuary). She began practicing yoga at a young age and after years of experiencing the benefits of asanas, meditation and mindfulness principles; she realized her dream of guiding others along their transformational path. She has extensive training in ballet; has a Law degree as well as a Social Service Worker Diploma. Nancy has a great passion for physical activities (including volleyball, running and resistance training). She is also a member of the Toronto Mindfulness Community.
Nancy's teachings take place in a professional, supportive, compassionate and joyful atmosphere. Her yoga classes are designed to take the student on a journey of mental focus and awareness, relaxation, meditation, and yoga philosophy learning, while also providing the student with a stimulating physical practice. She enjoys planning sequences that generate vitality, peace, and insight. She works with students at a variety of different levels; from the novice to the more experienced yoga learner; as well as students with a variety of different ability levels and needs.
Nancy believes the yoga practice is an invitation to explore and know the inner world, thus creating awareness and a deeper understanding of the outer world. She welcomes the opportunity to guide you along your journey of transformation.
For corporate yoga or in-home yoga in Toronto
Contact Santé Active 1-888-923-2448