Yoga Instructor in Ottawa - Sobina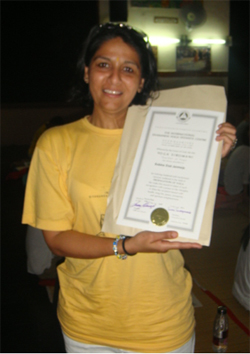 Are you looking for yoga in the workplace or in-home yoga in Ottawa?
We offer corporate yoga and in-home yoga lessons in Ottawa and Gatineau. Let us introduce you to Sobina, she can teach yoga classes for your employees or at your home in Ottawa. 
Sobina has been teaching Yoga for the last eighteen years. In 2011, she completed the prestigious Teacher's Training Course with the world-renowned Shivananda Ashram which has its world headquarters in Montreal, Quebec, Canada. Having lived in India, the U.S., and Canada, Sobina has practiced and taught various forms of Yoga. She specializes in Restorative Yoga and Hatha Yoga and enjoys teaching both classes and one-on-one.
Sobina currently teaches at the YMCA in Rockland twice a week, has long-standing clients in her private practice and also teaches and trains out-of-town clients via Skype and Facetime. Sobina has also taught a regular class at the Canada Games Centre in Whitehorse, Yukon for a year (2016-17).
Restorative Yoga incorporates assisted "asanas" or postures for people suffering from various physical issues who need help with stretching or limbering their stiff muscles. Several clients around Canada have found renewed energy and movability through regular classes with Sobina's restorative Yoga.
If you are looking for yoga in the workplace or in-home yoga in Ottawa
Contact Santé Active at 1-888-923-2448