Zumba Instructor Toronto - Mylene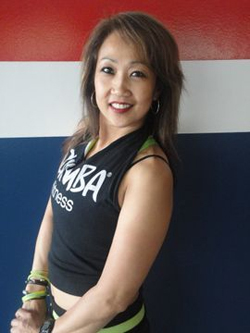 Corporate Zumba and Zumba for seniors in Toronto
Are you looking for a Zumba instructor for corporate Zumba or Zumba for seniors in Toronto?  Save time finding an instructor! We have a team of Zumba instructors near you in Toronto and Mylene is part of our team.
Join the Firecracker ZJ Mylene for Choreo ZIN™ Jam session. 
*Mylene comes to us from Ontario and has also been a part of the Zumba instructor's Convention Presenter Team for Asian Invasion! 
You will learn 4-5 EASY & FUN routines for different rhythms from your MegaMIx releases & the latest hits on the radio. You will be ready and prepared to teach them in your classes! Also, you will enjoy spending time networking with your fellow Zumba instructors. 
Authorized Zumba® Jammer 
ZJ Presenter at the Zumba Fitness Convention 2016, 2017, 2018
Can-Fit-Pro Certified Group Fitness Instructor since 2010
Official Zumba® Instructor since January 2010
Zumba Gold® Instructor since May 2010 
Zumba Toning® Instructor since May 2011 
Zumbatomic®  Instructor since May 2010
Zumba Basic 2 April 2010/2017
Aqua Zumba® Instructor July 2010 
Zumba® Pro Skills July 2015/2016
Let's Jam!!
For corporate zumba or Zumba for seniors in Toronto

Contact Santé Active 1-888-923-2448