Zumba Instructor Montreal - Franklin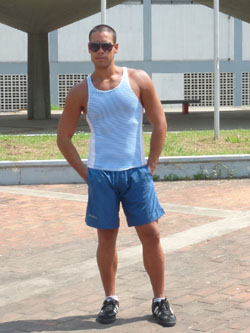 Hello, my name is Franklin I'm 26 years old from Venezuela and I am a Zumba Instructor in Montreal. My experience; I have had 5 years teaching Zumba, therapy dance, teaching dance ( salsa, merengue, samba), any kind of music do you want, social dance, class of weith, etc.  Every day when I teach my class I  feel happy for this labor, because my big strengths are my family and my job more when a client said me thank, this is very important for me, my weaknesses is my job because every day for example when I'm teaching Zumba, I try doing my best job,  I don't fell fears my big fears is I myself. My  goals is a thanks for my clients and a big smile this is my motivation of my work, because I love help the people for everything, but I want to do of the best form in my area fitness my passion, when you doing something you need to have passion for your individual goasl. The alimentation is a very good topic because sometime us keep a good training but in the alimentation is bad, you need to find a good equilibrium for may to get efficient results. This is my job keep your body and your health.
I describe me as a fighter man, specially to help people achieve their goals, I like to listening to the people, I'm a psychologist, I have a big experience help the people for everything any kind of problem, I have done courses of motivation and stress, always is important to get peace inside each of us, I try than my clients can find this peace with my class at the same time enjoy of a good moment. 
I hope you contact me for together working and win the best results.
Español
Hola mi nombre es Franklin Velasco
Yo tengo 26 años de edad
De Venezuela
Mi experiencia, yo he tenido 5 años enseñando zumba, bailo terapia, enseñando baile (salsa, merengue, samba), cualquier tipo de música que tu quieras, bailes sociales, clases de pesas, etc. Todos los días Cuando yo enseño mis clases, yo me siento feliz por esta labor, porque mi grandes fuerzas son mi familia y mi trabajo mas cuando un cliente me dice gracias, esto es muy importante para mi, mi debilidad es mi trabajo porque todos los días por ejemplo cuando enseño zumba , yo trato de hacer mi mejor trabajo, yo no siento miedo mi gran miedo soy yo mismo. Mis objetivos es un gracias por mis clientes y una grande sonrisa, esa es mi motivación de mi trabajo, porque amo ayudar a las personas por todo, pero yo quiero hacerlo de la mejor forma en mi área de trabajo mi pasión, cuando tu haces algo tu necesitas tener pasión para tus objetivos individuales. La alimentación es un buen tema porque muchas veces nosotros mantenemos un buen entrenamiento pero en la alimentación somos malos, tu necesitas encontrar un buen equilibrio para poder obtener eficientes resultados. Este es mi trabajo mantener tu cuerpo y tu salud.
Yo me describo como un hombre luchador, especialmente ayudando a las personas a lograr sus objetivos, me gusta escuchar a las personas, yo soy psicólogo, yo tengo una grande experiencia ayudando a las personas por todo cualquier tipo de problema, he hecho cursos de motivación y estrés, siempre es importante conseguir la paz dentro de cada uno de nosotros, yo trato que mis clientes puedan conseguir la paz con mis clases y al mismo momento disfrutar de un buen momento.
Yo espero que me contactes para juntos trabajar y ganar los mejores resultados.