Yoga Instructor in Toronto - Nora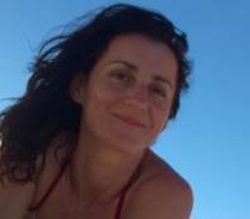 Corporate yoga and meditation in North York and Vaughan
Are you looking for corporate yoga or corporate meditation classes in North York, Vaughan, Richmond Hill or Thornhill?  We have a team of yoga instructors in your area. Let Santé Active introduce you to Nora who can teach yoga and meditation to your workplace or at your home.
Nearly twenty years ago I stumbled onto my yoga path walking on Danforth Avenue in Toronto. I was pregnant with my first child and needed some form of movement that was gentle and energizing.  Already a meditator for eight years, I was interested in the relaxation aspect of this ancient art of breath, movement, and imagery.  The practice has changed my whole experience of birthing and reformed my life during the years to follow.
As a former competitive dancer and instructor, the poses came fairly easy to me.  For the next ten years, I practiced on my own earnestly, learning from books, television shows and recordings of yoga until in 2oo6 I took my first formal yoga class. Shortly after I signed up for my 8oo hour Moksha yoga teacher training that changed my life indefinitely. Dropping all other carrier paths, I became an instructor of yoga and have been working full time in the field ever since.
Always hungry for a deeper understanding of this inexhaustible source of knowledge, I ventured into the discovery of the many varieties of yoga, including prenatal, yoga for children, yin, yin/yang, core yoga, detox yoga, Ashtanga, Hatha, and therapeutic yoga. Fueled by my interest in helping others live in a healthier body and develop a more spiritual mindset I continue studying all attributes of the craft of yoga, such as yoga therapy, yoga anatomy, self-massage, the mechanics and effects of breath, as well as the literature of yoga and related materials, everything from spirituality to quantum physics.
When I teach, I look at the person as a whole, and the group as a unit. As I see it, where we are in health and mindset is deeply influenced by where we come from and where we desire to go. Yet yoga teaches us the invaluable lesson of staying present in our every action so that we are more connected to our deeper self that is able to guide us through the hardship of work and life. As the body opens up, so does the mind. By going deeper into our tissues, we can resolve tension and access more energy to fuel productivity and intuition. Moving together provides a group with better dynamics and shared intention. 
We can deliver corporate yoga and meditation in North York and Vaughan
Contact Santé Active 1-888-923-2448