Yoga instructor in Toronto - Diana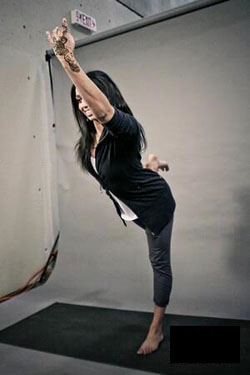 Yoga in the workplace and yoga at home in Toronto 
Our team of yoga teachers offers yoga in the workplace and at home yoga in Scarborough, Pickering, Ajax, Whitby, Oshawa. If you are looking for a yoga instructor in the Toronto area contact us and save time. Let us introduce you to Diana.
I have been practicing yoga for over a decade and since seeing the incredible benefits from my private practice I decided to teach full time in 2010. I teach Iyengar influenced Hatha yoga with a students-come-first approach.
I specialize in instructing yoga for back care, osteo care, and therapeutic yoga. I focus on bringing proper alignment and muscular balance into the body. Each class is designed specifically to suit the needs of those in attendance and incorporates various forms of meditation and breath techniques to bring a sense of equanimity into the body as a whole. My passion for yoga has lead me to help run and organize various charity events and has brought me onto television to promote the benefits of yoga to a larger audience. I can teach in Toronto, Scarborough, Pickering, Ajax, Whitby, Oshawa, Courtice, Bowmanville.
Find a yoga instructor in Toronto for yoga in the workplace or at home yoga
Contact Santé Active 
1-888-923-2448