Yoga and Pilates Instructor in Montreal - Jacqueline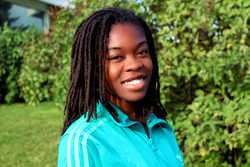 We offer corporate yoga and corporate Pilates in Montreal
We can bring your yoga or Pilates lessons to your workplace in Montreal. Let us introduce you to Jacqueline who can teach yoga and Pilates at your office.
Jacqueline is a bilingual multifaceted instructor and Reiki practitioner with 10 years of coaching experience; she specializes in the following fitness and wellness activities
Kemetic Yoga - Certified & recognized by Yoga Alliance
PiYo Live: A fitness program inspired by Pilates and Yoga - Beachbody; LLC
Rhythmic gymnastics - La Fédération de Gymnastique  du Québec
In her classes, you will learn how to harmonize your breath and movements, develop strength, balance, alignment, and flexibility. You will gain a deeper sense of self-awareness; overcome mental & physical limitations, release stress and emotional blockages. You will cultivate clarity, creativity, peace, and resilience.
Jacqueline's mission is to help you feel empowered and give you the tools required to reach the goals you set for yourself, whether it is getting in shape, self-expression, healing or an overall sense of well-being which will last long after you leave her class.
Jacqueline has experience working with all ages and levels, group or private classes.
Classes are available at your workplace, school, gym/studio or home in Montreal.
We deliver corporate yoga and corporate Pilates in Montreal 
Contact Santé Active 1-888-923-2448