Yoga Instructor Etobicoke, Markham and Richmond Hill - Wendy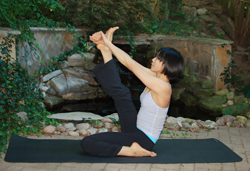 Corporate yoga in Richmond Hill, Etobicoke, North York, Markham 
We offer corporate yoga in Richmond Hill, Etobicoke, North York, and  Markham. We can help you find a yoga instructor, we have a team of instructors near you in the Toronto area. Let us introduce you to Wendy one of our yoga instructors.
Wendy tried her first yoga class 17 years ago and was immediately drawn to the practice. Over the years, Wendy has been studying with many experienced teachers from all over the world. She completed her yoga teacher training program at the Downward Dog Yoga Centre and continues to evolve and build her practice. She has taught over 2500 hours of yoga classes.
Wendy is currently based in Toronto, where she teaches classes, workshops and works with corporate groups and private clients. She customizes her yoga classes for individual clients to help them achieve their goals, whether it be enhancing sports performance, general fitness or relaxation. Specializing in Ashtanga Vinyasa yoga, she also teaches Hatha, yin and restorative yoga.
Last but not least, it is her mission to share the benefits of a consistent and mindful yoga practice - inner peace, sharper focus, better stamina as well as various therapeutic effects. 
If you are looking for corporate yoga in Etobicoke, North York, Markham or Richmond Hill
Contact Santé Active 1-888-923-2448