Yoga Instructor in Toronto - Robin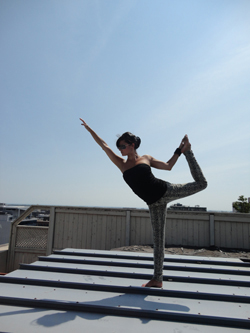 Yoga instructor for corporate yoga or for private yoga in Toronto
Are you looking for a corporate yoga instructor in Toronto? We bring yoga classes to your workplace or at your home in Toronto. Save time we have a team of yoga instructors in the Toronto area. Let Santé Active introduce you to Robin one of our yoga instructors. 
Yoga brings to mind, body, breath together; building inner strength as well as physical.  I am constantly learning especially from my students and life.
Like anything new we can make an excuse to not try- it is that leap of faith the trying.  Yoga is not about the flexibility of the body rather the mind; to remove "obstacles"; one of the hearts of Yoga.
My classes focus on the foundation of postures from beginner to advanced.  Each moment is different therefore each class integrates and appreciates these moments in time and body while embracing a sense of playfulness.  When teaching; I tailor my classes to fit the mood and needs of the group. Robin can teach in Toronto the Financial District and South Harbour.        
If you are looking for corporate yoga or in-home yoga in Toronto
Contact Santé Active 1-888-923-2448