Yoga Instructor Ottawa and Gatineau - Sylvie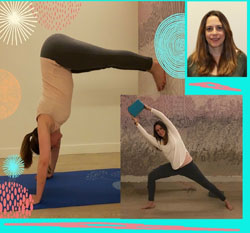 Corporate yoga and yoga for seniors in Ottawa or Gatineau?
We offer corporate yoga, yoga for seniors and in-home yoga in Ottawa-Gatineau. Let Santé Active introduce you to Sylvie one of our yoga instructors in the Ottawa-Gatineau region. Save time finding your instructor we have a team near you.
I was introduced to yoga more than 20 years ago while travelling in India.  There I was first trained in Hatha Yoga with Swami Devaprasad.  Since then, yoga has remained for me a practice that has helped me maintain good physical health and inner calm. Passionate about travelling, I made my way back to India several times to explore and understand its cultures and philosophies.  Always curious, the study of the human being and the varied philosophies established to guide us towards a state of physical and mental well-being saw me delve into a career in social work.  I have explored various disciplines, dance, team sports, athletics, cycling and martial arts. It convinced me of the benefits of yoga, which increases flexibility, strength, and balance, and prevents injuries.  I, therefore, I decided to focus on yoga.
It would be my pleasure to accompany and support you with an accessible practice, for people of all fitness levels, taking into account your physical challenges.  I adapt the exercises to your abilities and needs. I can incorporate the philosophy of yoga, pranayamas (breathing techniques) and meditation.  All of these practices will help you enjoy the joys of life and thrive.  It is important for me to guide everyone around me towards a healthy, balanced and satisfying life.
Training completed with Yogafit:
Level 1: Foundations

Level 2: Communication

Level 3: Introspection

Level 4: Tradition

Level 5: Unification

Anatomy & Alignment

Yogafit Seniors

Yogafit Props

Yogafit Sweat (Hot Yoga)

Kids

Yogafit for Warriors (to treat post-traumatic stress)
If you are looking for corporate yoga or yoga for seniors in Ottawa or Gatineau
Contact Santé Active 1-888-923-2448