Yoga Instructor Calgary and Okotoks - Jenni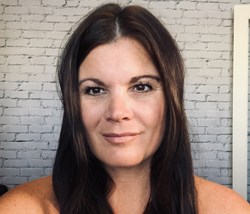 Corporate yoga and online yoga in Calgary and Okotoks
Are you are looking for corporate yoga classes in Calgary or Online yoga for your employees? We have a team of yoga instructors we can help you to save time finding the right instructor for your organization. Let Santé Active introduce you to Jenni one of our yoga instructors near you.
I feel very lucky to be one of those people who gets to "do what they love." I love Yoga. The only thing I love more than yoga is the opportunity to share this practise and its benefits with others. There is no better way that I know to enhance your mind, body or soul wellness. If you are looking to gain focus, peace, strength, relaxation  or just have a great stretch, I would be honored to be your guide!
I have been practising yoga regularly since 2004 and teaching full time since 2010. With the foundations of my training in Vinyasa Flow, I also offer hatha yoga, gentle, yin, restorative, yoga nidra, yoga for seniors, prenatal yoga and yoga for children. I love working one on one with clients and in small groups to offer a specialized and personal approach to your yoga practise. My classes have been described as grounding, lighthearted and inspiring. I hope to meet you on your mat soon!
For corporate yoga in Calgary or Okotoks

Contact Santé Active 1-888-923-2448