Yoga Instructor Calgary - Carolyn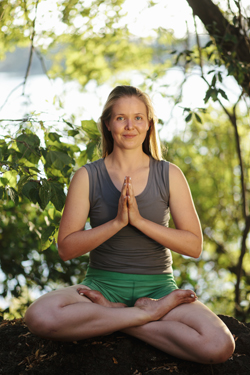 Corporate and private in-home yoga Calgary
We have a team of yoga instructors in Calgary and we offer corporate and private in-home yoga. Let Santé Active introduce you to Carolyn who is part of our team of yoga instructors.
Carolyn has been teaching yoga full time since 2014. She has completed four different yoga teacher training programs, and can teach a wide variety of styles of yoga. She is happy to cater the classes to her clients needs.
Carolyn lived on a yoga ashram in India for one year and enjoys incorporating elements of meditation, breathing exercises, and yoga philosophy into her classes. She has taught all ages from children to seniors, all levels from beginner to advanced, all class sizes from private to 60 students. She is looking forward to sharing her love of yoga with you, and making you feel better physically and mentally after your class.
For corporate yoga or private in-home yoga in Calgary

Contact Santé Active 1-888-923-2448