Yoga Instructor in Montreal - Jennifer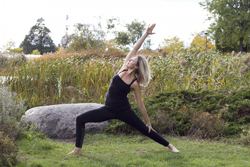 We deliver corporate yoga and in-home yoga in Montreal 
If you are looking for corporate yoga for your employees or yoga at home in Montreal contact Santé Active. Save time searching for a yoga instructor we have a team of yoga instructors near you. Let us introduce you to Jennifer one of our yoga teachers in Montreal.
Named as one of Montreal's 2014 top ten yoga teachers in Cult Montreal, Jennifer, 200 YTT, teaches comprehensive alignment-based hatha yoga in studios, hospitals, offices, schools, and homes. She is known for her warm demeanour and extensive knowledge which makes her students feel safe, relaxed and at ease.
Passionate about bringing wellness into the workplace, she has presented her Master's thesis on Communication Mechanisms that Enable Thriving Under Stress at the Canadian Communications Association. She is the founder of Yoga in the Garden, a Montreal community initiative that brings yoga to the urban rooftop garden at Santropol Roulant, a non-profit organization that breaks down social and generational isolation through food delivery. She runs the Sun Life Yoga studio in downtown Montreal whose mandate is to bring the benefits of yoga and meditation to busy business professionals. Jennifer offers yoga as a complementary treatment for teens with eating disorders at the Adolescent Clinic department of the Montreal Children's Hospital.
Jennifer's grounded approach is infused with humor and insight. She has taught hundreds of students how to heal themselves and cultivate inner strength. She has collaborated with occupational therapists, doctors kinesiologists, social workers, and musicians.  Her passion is using the art of the introspective yoga practice to refine people's ability to deepen the relationship between themselves and their community. She is currently enrolled in a 300 hour Yoga Therapeutics certification at Re: source Yoga Therapy, Montreal's premiere school of yoga therapeutics.
Corporate yoga or in-home yoga in Montreal
Contact Sante Active 1-888-923-2448