Massage Therapist Ottawa and Gatineau - Bettina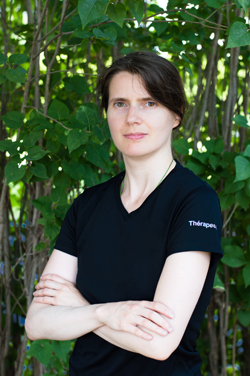 For corporate chair massage or home massage in Ottawa or Gatineau
If you are looking for a massage therapist for corporate or home massage in Ottawa or Gatineau let us introduce you to Bettina.  
I was initiated to Reiki and reflexology in Gatineau in 2017, I decided to certify myself and become a massage therapist in Gatineau, graduated at the 'Académie de Massothérapie et d'Orthothérapie du Québec' in Swedish relaxation massage and massage chair Amma.
I discovered a hidden talent to relieve back and leg pain in August 2016 when I did a massage at the ankles of a lady who had almost no mobility. After discovering that after my massage, the lady no longer used her cane to walk, I decided to take a professional training to help people like her.
My techniques :
Swedish Relaxation Massage
Therapeutic Massage
Tissue decongestion massage (my own approach)
Corporate Chair Massage Amma 
Foot reflexology (relaxation)
I like to help people and bring them a state of well-being and relaxation.
Receipts for insurance available and satisfaction guaranteed
For corporate or home massage in Ottawa or Gatineau
Contact Santé Active 1-888-923-2448