Yoga Instructor Calgary - Adelina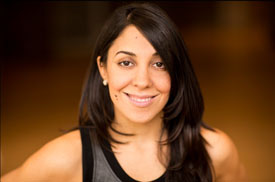 Corporate yoga and private in-home yoga in Calgary 
 If you are looking for yoga instructors in Calgary to teach classes at your company, your home or your retirement home, Santé Active is the place to call.  Make your life easier! Our instructors can come to your location if you need them.  We'd like to introduce you to Adelina, one of our yoga instructors in Calgary.  
Adelina has been doing yoga for over 20 years since her University professor introduced it to her acting class to control breath, body and movement. It was also used as a tool to bring calm and presence to the stage. After experiencing so many benefits, Adelina then began to practice it so often she decided to complete her training which would help her better understand and dive into the art and philosophy of yoga. She has taught Vinyasa Yoga, Hatha, Yin and Children's Yoga in Calgary, the Caribbean and Italy. Adelina studied Yoga in Calgary with "Outbound Yoga", Costa Rica with "Multi-style International Yoga" and did additional training in Spain with "Frog Lotus International".
Adelina has a background in the dramatic arts, education, and counselling psychology, all of which influence her instruction, empowering students through the mind and body connection. She brings compassion, creativity, commitment, and care to the people she works with. Adelina is available to guide you through a powerful practice privately, in small groups, for special events, or in the workplace. She looks forward to sharing the long-term benefits and joys of practicing yoga in a safe and comfortable space.
Workplace yoga and yoga for seniors in Calgary

Contact Santé Active 1-888-923-2448