Yoga Instructor Toronto - Estie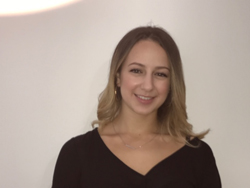 Yoga for corporations in Vaughan, Richmond Hill, Markham, North York
If you are looking for an instructor for yoga classes for corporations in Vaughan, Richmond Hill, Markham or North York we can help you to save time.  We have a team of yoga instructors in the Toronto area who are mobile and will teach where you need them.  Let us introduce you to Estie who is a member of our team of yoga instructors.
Estie is a certified yoga instructor (250 hr teacher training, 50+ hr Yin yoga training, etc.) and is also a current student of Kinesiology at York University. She has been a competitive dancer for a major part of life and has been teaching dance, conditioning, and flexibility classes to kids and adults for 6 years. She began practicing yoga as a way to relieve stress and recover mentally and physically between strenuous training sessions and dance competitions. She was and still is, fascinated by the fine balance between the physical and the mental components of yoga practice. Having experienced the life-changing benefits of yoga throughout her own practice, she is adamant about sharing her passion for yoga and other movement-based practices with the wider community.
Estie has always felt that movement is the best form of therapy, and even more so when combined with mindfulness and presence. In her classes, she strives to work with students towards awareness through breath work and other methods in order to lead them in the path of developing a deeper understanding of their bodies and minds. Her classes also focus on finding alignment and stability within each posture, as she uses her knowledge of Pilates, dance, and yoga together, leaving students with a feeling of strength, length, and confidence. She enjoys working with all groups of people, encouraging students to overcome challenges on the mat, and by doing so, hopefully inspiring them to apply the same approaches off the mat.
Estie is always striving to expand her knowledge and skills and is constantly on the search for new information and different approaches in teaching in order to bring her students the best-in-class experiences.
For yoga to your corporation in Vaughan, Richmond Hill, Markham or North York
Contact Santé Active 1-888-923-2448