Yoga instructor in Toronto - Meredith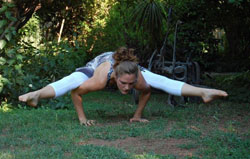 Toronto corporate and private yoga
Are you looking for a yoga instructor in Toronto to teach corporate yoga or private yoga to your home? Save time finding a yoga instructor near you and contact us! We have a team of yoga instructors in the Toronto area. She completed her 300-hour Advanced Yoga Teacher's Training with Octopus Garden Yoga Centre in Toronto in 2014
Meredith embodies a genuine love for movement and physicality and believes that connection to ourselves in Gratitude is of utmost importance.  When we connect to our bodies through movement, we are able to access something much deeper.  Developing a caring and compassionate relationship with Self is the basis on which we are able to connect authentically with others and the World. 
After growing up as a hard-core gymnast, Meredith had the opportunity to go deep into yoga as an adult while living and working in India for several years.  She completed her 200-hour Yoga Teacher's Training course with Sivananda Yoga Vedanta at their ashram in South India and later had the opportunity to study various systems of yoga asanas as well as classical Yoga Philosophy in both Mysore and the Himalayan mountains. 
During her time in India she had the opportunity to travel extensively within India and to places like Turkey, and Indonesia, learning as much as possible and completed a Thai-yoga Massage course with the Sunshine network in the North of Thailand.
Upon returning to Canada to finish her degree at the University of Toronto (Psychology specialist, minor in Fine Art) and after attending an artist residency in Greece, Meredith went on to become a fully certified Personal Trainer.  She gathered working experience as Health Specialist and Personal Trainer at Goodlife fitness before continuing her yoga studies with Octopus Garden Yoga in Toronto, completing their 300-hour Advanced Yoga teacher's training course. 
Meredith has experience running yoga retreats internationally in Cyprus and in India.  In Toronto, she became the volunteer yoga instructor at the Yellow Door learning centre and also has experience teaching private and semi-private classes.  Meredith is passionate about holistic healing in all its forms and sharing knowledge and skills that allow people to connect with themselves and go deeper into Life.  
For corporate yoga or private yoga lessons in Toronto
Contact Santé Active 1-888-923-2448