Yoga Instructor in Ottawa - Agnes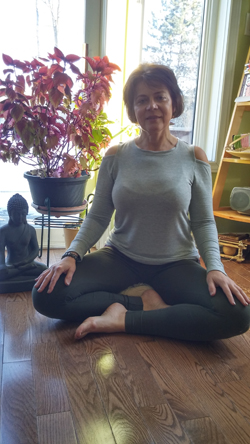 Are you looking for private in-home yoga in Ottawa?
We offer private in-home yoga in Ottawa. We can help you to save time as we have a team of yoga instructors near you. Let Santé Active introduce you to Agnes one of our yoga instructors in the Ottawa region.
When I have started my first asana, I haven't expected that I will find my path.
I began my journey of discovery with yoga a few years ago as a result of chronic back pain no doubt brought on by raising my three children. Yoga brought balance to my life, calmness to my mind and often a point of complete settle down. My practice has helped me grew stronger, more flexible and balanced. Yoga inspires me to live each moment more mindfully.
 I am a qualified Hatha yoga teacher with strong interest and love to Yin and Restorative yoga.
I teach what is inside of me and at every moment I come to the level of my students and builds them up. My goal is to understand them and be with them in their own yoga journey.
Besides my yoga journey, I am an Early Childhood Educator teaching an after-school program and a teacher at the Saturday polish school.
And my passion is dancing the Argentinean tango and painting with my youngest students.
If you are looking for a yoga instructor for private in-home yoga in Ottawa
Contact Santé Active 1-888-923-2448