Yoga Instructor in Montreal - Jaime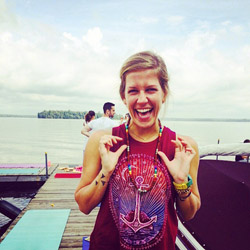 Yoga for people with special needs and in-home yoga in Montreal
Are you looking for a yoga instructor in Montreal? We have a team of teachers who can deliver in-home yoga and yoga for people with special needs in the Montreal area.  Let us introduce you to Jaime one of our instructors in Montreal.
Jaime has been teaching yoga to children and to people with special needs of all ages for the last 5 years. With a creative flair, she motivates children as young as two years old to wag their tails in Downward Dog and hiss like a snake in Cobra. For children with physical disabilities, Jaime offers a more hands-on approach so that they are able to get into stretches they may not otherwise be able to do.
Three years ago Jaime realized that she also enjoys teaching yoga to 'typical' adults. Having her start with training in Hatha yoga, and a more recent 200 YTT that covered various styles including Prana Flow, her teaching style is very fluid and grounded, yet covers a wide range of postures and exercises. She can offer a fun intense flow but also has the ability to instruct beginners in a way that is very clear and direct. Jaime believes that our breath is one of our greatest tools and loves guiding people to learn how to use it. She enjoys being able to make yoga fun, accessible and unintimidating to all.
If you are looking for yoga to people with special needs or corporate yoga in Montreal 
Contact Santé Active 1-888-923-2448