Yoga Instructor Oakville, Burlington, Hamilton - Lisa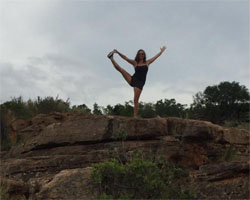 Corporate yoga and private yoga in Oakville, Burlington or Hamilton?
If you are looking for corporate yoga or private yoga in Oakville, Burlington or Hamilton contact us. We will help you to save time as we have a team of yoga instructors near you. Let Santé Active introduce you to Lisa one of our instructors in your area.
Lisa is a certified Yoga Instructor and Holistic Nutritionist.  She has been teaching Yoga since 2011 her styles of yoga include Hatha, Vinyasa, Chair Yoga and Restorative; her classes are alignment-based and support holistic healing. 
 
Lisa 's understanding of Yoga, Nutrition, and Energy provides her students with a unique and healing yoga practice that benefits students of all levels. Lisa's love of helping others inspires her practice and connects her with her tribe of students.   
Her Credentials Include:
Certified Yoga Instructor – Igita Certified
Holistic Nutritionist – CSNN
Reiki Level 3 – Akasha's Den A
warded Hamilton's best Yoga Instructor – 2017 by the Hamilton Spectator
Nominated Hamilton's best Yoga Instructor – 2018 by the Hamilton Spectator 
For corporate yoga or private yoga classes in Oakville, Burlington or Hamilton
Contact Santé Active 1-888-923-2448