Yoga Instructor in Montreal - Bassem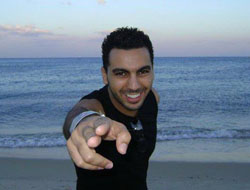 Yoga in the workplace and yoga for seniors in Montreal 
Are you looking for workplace yoga classes, yoga for seniors or private yoga in Montreal?  Let us introduce you to Bassem. He is a Registered Yoga Teacher (RYT) with Yoga Alliance, which acknowledges the completion of a yoga teacher training with the International Sivananda Yoga Ashram.
Bassem is an inspiring Hatha Yoga, Fitness Yoga & Yoga Dance Teacher with a pleasant personality and a high level of professionalism. Bassem is currently teaching with major Yoga Centers, such as The YMCA, The Art of Living Center and The Sivananda Yoga Center. Bassem is also a personal coach for well-known Athletes & Models.
Bassem's journey with yoga started 10 years ago with the Art of Living Foundation in Dubai. He completed successfully the Art of Silence, the Art of meditation and the Sri Sri Yoga courses. He could also travel the world to meet different spiritual gurus and deepen his practice in many ashrams and temples in Asia.
During his Yoga Teacher Training at The International Sivananda Ashram, Bassem's acquired important knowledge based on the 5 principles of Yoga:
Proper Exercise (Asanas)
Proper Breathing (Pranayamas)
Proper Diet
Proper Relaxation (Savasana)
Positive Thinking (Vedanta) and Meditation (Dhyana)
If you want to start or deepen your Yoga practice and get customized Yoga Exercise, Meditation, Diet, Breathing & Relaxation Techniques, Bassem is the right experienced teacher that you should contact. He will get you in shape and keep you Positive and Inspired.
If you are looking for workplace Yoga, yoga for seniors or private yoga in Montreal
Contact Santé Active 

1-888-923-2448