Yoga Instructor Calgary - Karine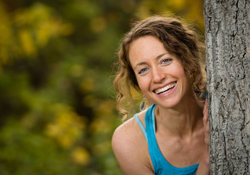 Corporate yoga and private in-home yoga in Calgary 
Are you looking for corporate yoga or private in-home yoga in Calgary? Contact us we have a team of yoga instructors near you. Let Santé Active introduce you to Karine one of our yoga teachers in Calgary.
Born and raised in Mexico City, I moved to Calgary in 2011. 
I have a background in dance. Always drawn to the fitness industry, I have explored a variety of techniques and offerings. Before being fully immersed in yoga, I taught Jazzercise and Dailey Method (barre). I occasionally teach mat pilates as well. In yoga, I have trained in vinyasa/flow and yin. I draw from all these disciplines to create classes that meet the student's needs and expectations. 
My recent studies focus on meditation and Yoga Nidra. 
I teach from what I experience in my personal practice and always hope to make a difference in the way people relate to their bodies, allowing them to find the ease of movement to enjoy their everyday activities.  
In my classes,  I offer fun and creative sequences, with modifications for every level (I encourage the use of props to make the poses accessible and save for everybody). I give a lot of alignment cues and I give special attention to transitions between poses. I work with strength and balance, but I always add a yin and restorative component, so you get a well-rounded class. 
Classes can be customized to your needs and goals. 
I speak Spanish, French, and English (classes available in all 3 languages). 
MY YOGA QUALIFICATIONS:
200-hour Yoga Teacher Training with Kevin Elander, Sara Villamil, and Britta Erickson at Yoga Mandala. 
30-hour Yin Training with Stephanie Staniforth.
I will be taking Yoga Nidra training in January and February 2017.
Registered with Yoga Alliance. 
Liability insurance.
Non-related studies:
Bachelor in International Relations 
Natural Nutrition Program at the Canadian School of Natural Nutrition
Are looking for a yoga instructor in Calgary for corporate or private yoga?
Contact Santé Active 1-888-923-2448