Yoga Instructor in Toronto - Morgen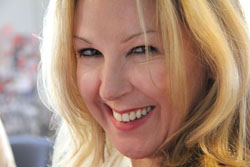 We offer corporate yoga and private yoga in Toronto
Are you looking for a yoga instructor in Toronto?  We offer corporate yoga and private yoga at home in Toronto. Save time we have a team of instructors in your area and they will deliver your yoga lessons where and when it is most convenient for you.  Let us introduce you to Morgen a member of our Toronto team.
She teaches corporate, group and private lessons with the belief that everyone should enjoy the benefits of Yoga.  She teaches with a fresh, modern approach. Morgen has practised Classical Hatha yoga for 20 years. She is also certified in Ashtanga Yoga by Downward Dog Yoga Studio and a Registered Yoga Teacher with the Yoga Alliance.  Morgen gives private yoga lessons, personalizing classes to suit the needs of each individual client.  She is also trained in mindfulness meditation, teaching yoga to children and those with special needs and has advanced studies in anti-aging.  Morgen also teaches at The Centre For Addictions and Mental Health. 
Before devoting full time to yoga Morgen worked in the fast-paced world of Television. Producing Live Music & Interview Specials with A-List Artists such as Celine Dion, Sting, Janet Jackson, Shania Twain, Prince, Sheryl Crow, and more. 
She has travelled the world extensively producing Television Documentaries on Music & Culture including India, Indonesia, Spain, Israel, Ireland, Guatemala, South Africa, Trinidad, Sweden Egypt, Japan, Peru, Jamaica, Kenya, Brazil, Haiti and more. 
Morgen is involved with many charitable causes and volunteer work including:
Founding Board Member of The Toronto Wild Life Centre
Field Researcher Camp Leakey, Borneo Indonesia - a Centre to Rehabilitate orphaned and Ex Captive Orangutans
Field Research Water Planet, Panama City - Marine Dolphin Conservation society
Field Research Dolphin Amor, Drake Bay Costa Rica - Marine Dolphin Conservation society
If you are looking for corporate yoga or in-home yoga in Toronto
Contact Santé Active 1-888-923-2448