Yoga Teacher in Toronto - Jennifer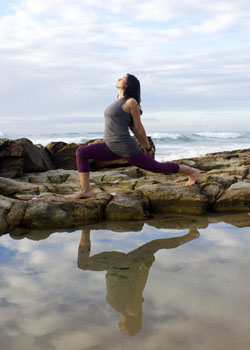 We deliver corporate yoga in Toronto for employee wellness
Are you looking for corporate yoga classes in Toronto?  Save time we have a team of yoga instructors in Toronto who can deliver your yoga classes to your workplace. Let us introduce you to Jennifer who can teach yoga to your group of employees at your office.
I found my passion for yoga while living and studying in Toronto back in 2005. I had started my new part-time job at Lululemon in the west end where I was offered free yoga classes every week to broaden my horizons and try something new.  For me it started out as trying a 'new type of exercise class' but it would soon become an integral part of my life.  You see, my background was power sports such as basketball, soccer, and rugby and wrestling, how could I slow down and remember to just… breathe??
Years of competing led to years of injury and time spent in the clinic. In the final year of my exercise physiology degree at McMaster University, I decided I wanted to become a Chiropractor.  In 2003 I found myself studying anatomy and biomechanics once again and after 2 years into my degree did I really start to understand how to care for my body… and so I found myself on the mat.
Yoga helped me to recover from injury and to promote a sense of health and well being that I had not known during my time as an athlete.  It allowed me the freedom to explore and to adopt a new sense of mental wellbeing. 
I have worked as a Chiropractor for over 7 years and during my college and professional career, I have also worked as a personal trainer, fitness instructor and am also currently a Zumba Instructor. I feel my experience as a Chiropractor helps not only to evolve my own yoga practice but gives me the expertise to instruct and tailor the practice to suit a diverse population of people.  We are all different shapes and sizes with diverse capabilities and I believe Yoga is made for everybody.
I completed my RYT-200 Yoga Teacher training on the Sunshine Coast of Australia with Being Yoga in 2013 and have been teaching ever since. 
Yoga, for me, has just put it all together, the physical, the mental and the spiritual and has allowed me to practice Chiropractic with diverse perspectives. 
I believe it encourages strength and grace most of all… opens us up to the endless possibility that exists
If you are looking for corporate yoga in Toronto
Contact Santé Active 1-888-923-2448